| | | |
| --- | --- | --- |
| Contact US For Quotation | Email:464560351@qq.com | Whatsapp&Wechat:+8618620373879 |
Overview
Offering 0.02% basic accuracy, 0.1μΩminimum resolution, 1A maximum test current

With measurable range 0.1μΩ~3.3MΩ.

Anti-interference measurement is achieved by protecting the probe used by the port and increasing the test current.

Using the sorting indicator (option) with loud volume sound to accurately judge whether it is qualified or not at the production site.

Equipped with RS232/RS485/LAN interfaces and EXT I/O port, HT3544 multi-channel resistance meter is especially suitable for supporting ATE line to complete automatic test.
HT3544 portable resistance tester operation interface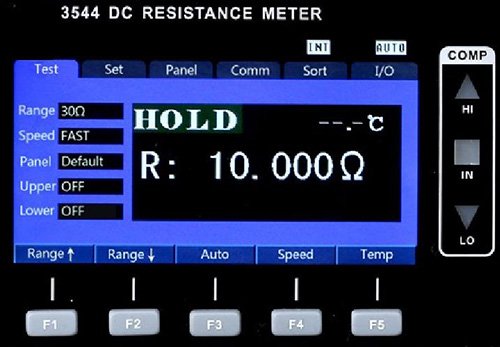 Features
Benchtop HT3544 with compact structure

Anti-interference design, suitable for complex occasions in electromagnetic environment

Fast and high-precision testing, rich interfaces

Rich interfaces configuration easy for system integration
Front Panel of HT3544 Benchtop Resistance Tester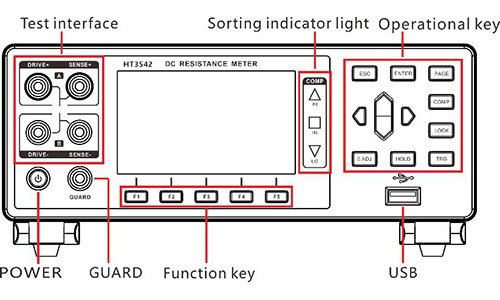 Rear Panel HT3544 Benchtop Resistance Tester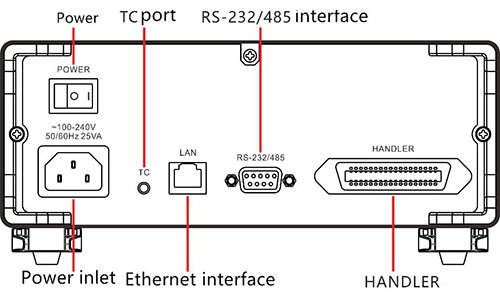 Application
HT3544 has wide application in measuring various high, medium and low value resistors; various switch contact resistances; connector resistance; relay line package and contact resistance; transformer, inductor, motor, deflection coil winding resistance; wire resistance; ship, aircraft metal riveting resistance; printing line and hole resistance, etc,.

| | |
| --- | --- |
| Model | Benchtop HT3544 |
| Display | 3.5 inch TFT-LCD display |
| Measurement items | ESR, temperature |
| Basic accuracy | 0.1%±10 reading (3mΩ,30mΩ,3MΩ); 0.05%±4 readings;0.02%±2 readings(the other ranges) |
| Measurement range | 3mΩ/30mΩ/300mΩ/3Ω/30Ω/300Ω/3kΩ/30kΩ/300kΩ/3MΩ |
| Measurement speed | FAST(50Hz:21ms, 60Hz:18ms), SLOW(200ms) |
| Maximum test current | DC 1A, Max:5.5V |
| Temperature | Range:-10°C ~60°C Accuracy:±1°C |
| Correction | Short-circuit reset for all ranges |
| Comparator | HIGN/IN/LOW sorting,10 bin-out |
| Internal data storage | Support with PC software and store in PC |
| Trigger | Internal/external/manual trigger |
| Signal source | AC 1kHz, Test current: <150mA |
| Resolution | 0.1μΩ |
| Other functions | temperature correction, power frequency setting |
| Interface | External I/O,LAN,RS232 |
| Power supply | Voltage:100VAC~256VAC; Frequency: 50Hz~60Hz; |
| Rated Power | 10W |
| Dimensions | 325 mm (L) x215mm (W) x 96.5mm (D),without sleeve |
| Accessory | Standard:HT9363A,HT9348,power cord |
| Weight | 2kg |

Specification Selection Table
Model
Channel No.
Design
Range
Accuracy
HT3548
Single
Handheld
3mΩ~3MΩ




0.02%±2 (reading)

HT3544
Benchtop
HT3544-12H
12-channel
HT3544-24H
24-channel
Benchtop